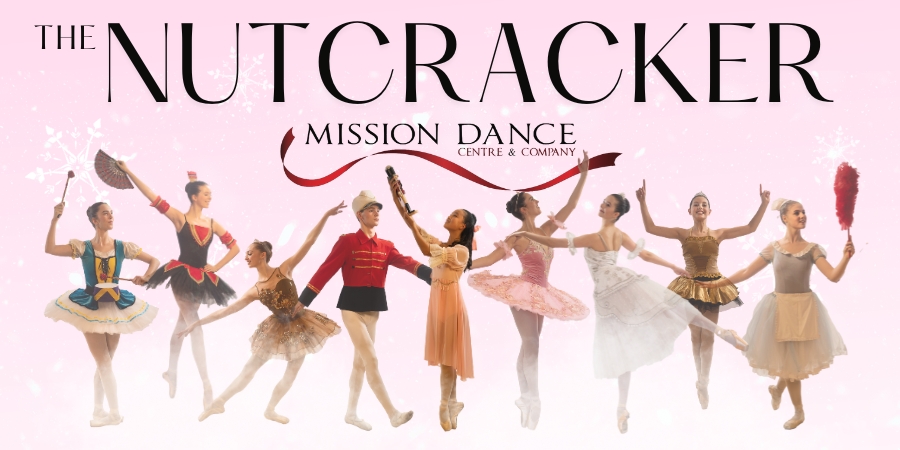 Mission Dance Centre
&

Company Performances
Every year we put on a number of performances featuring our amazing dancers from our preschool program right through to our Adult performers.  This is an opportunity for dancers to experience the thrill of performing on stage and the excitement and magic of a full theatrical production.
Our Dancers train for solo performances, duets and ensemble roles in productions such as Mission Dance Centre & Company's "The Nutcracker", "Swan Lake", "Giselle", "Alice in Wonderland" and more.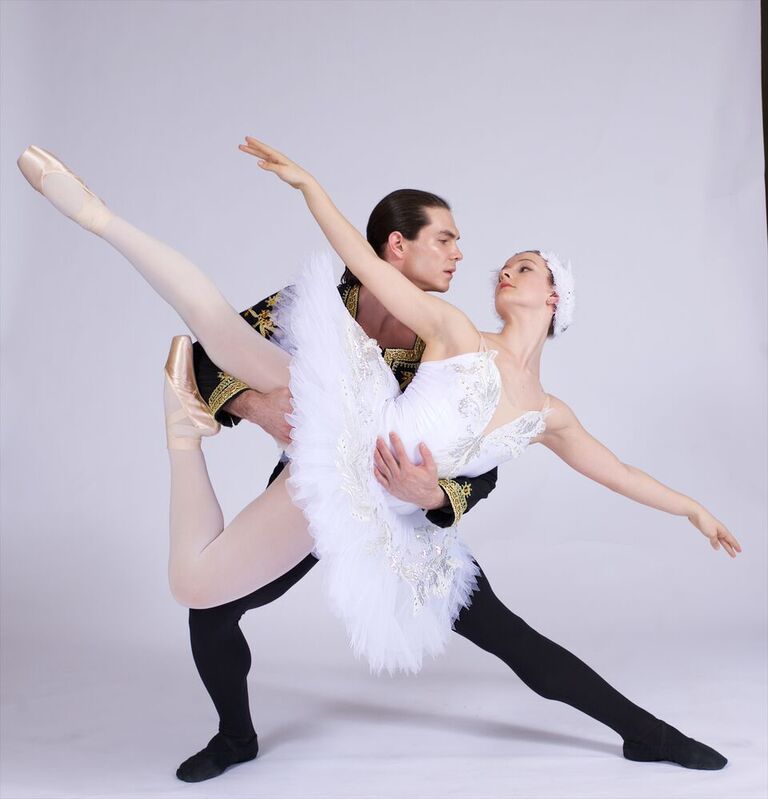 Casting roles for performances will be strictly decided upon based on your child's effort, suitability for the role technically, musically, style and expression ability. Because we will be charging you one base costume fee for the entire year (exception for those students selected for competition- costumes fees are an additional cost depending on how many 
dances
 are entered) the selection of your child for a role does not depend on price of costume but on the good results of their hard work and attendance in classes and rehearsals.
There are many careers available in 
dance
 other than becoming a professional 
dancer
. We do our best to work hand in hand with you the parent and your child to explore the world of 
dance
 and other associated career opportunities if this is what inspires and ultimately lights them up!
We are here to advise and help in any way we can to guide you and your aspiring 
dancer
, future 
dance
 teacher, or anything they may dream to be. We do care about your child's present 
dance 
training but just as importantly also about their personal development and future – be it in 
dance
 or any other career of choice.
We strive to inspire and motivate their self confidence through their training and performing opportunities. Every child that has the courage and confidence to step out on a stage in front of an audience gains an automatic sense of self awareness and confidence, not to mention the mental focus, self control, and hard work ethic learned which is needed to make that first step onto the stage in the first place.
Jera Wolfe and Annette Bakala pictured
Credit: Glenna Turnbull
Artistic Director, Tanya Vadurova, is pleased to announce that Mission Dance Company will be bringing 3 productions to the stage this year: Artist's Passion, The Nutcracker and Swan Lake.
Swan Lake: Celebrating its 20th Anniversary Year, Mission Dance Company is proud to present the classic Tchaikovsky ballet 'Swan Lake' starring Principal Dancer, Olivia Latendresse, Annette Bakala and special guest artist.
There is a reason Swan Lake has remained the world's most beloved classical ballet for more than a century. It is an achingly beautiful fairytale told through unparalleled virtuosic choreography and Tchaikovsky's indelible score that has long surpassed the test of time.
This beautiful and powerful production, adored by children and adults alike, tells the story of young Prince Siegfried who falls in love with the White Swan, Odette. An evil sorcerer, Rothbart, captures victims and puts them under and terrible spell that transforms maidens into swans. The only thing that can break the spell is true love and Rothbart will do anything in his power to stop it.
We welcome you to join us on our Okanagan Regional Tour this May & June for this 'must see' presentation and help us bring the magic, romance, and love of this epic ballet to life.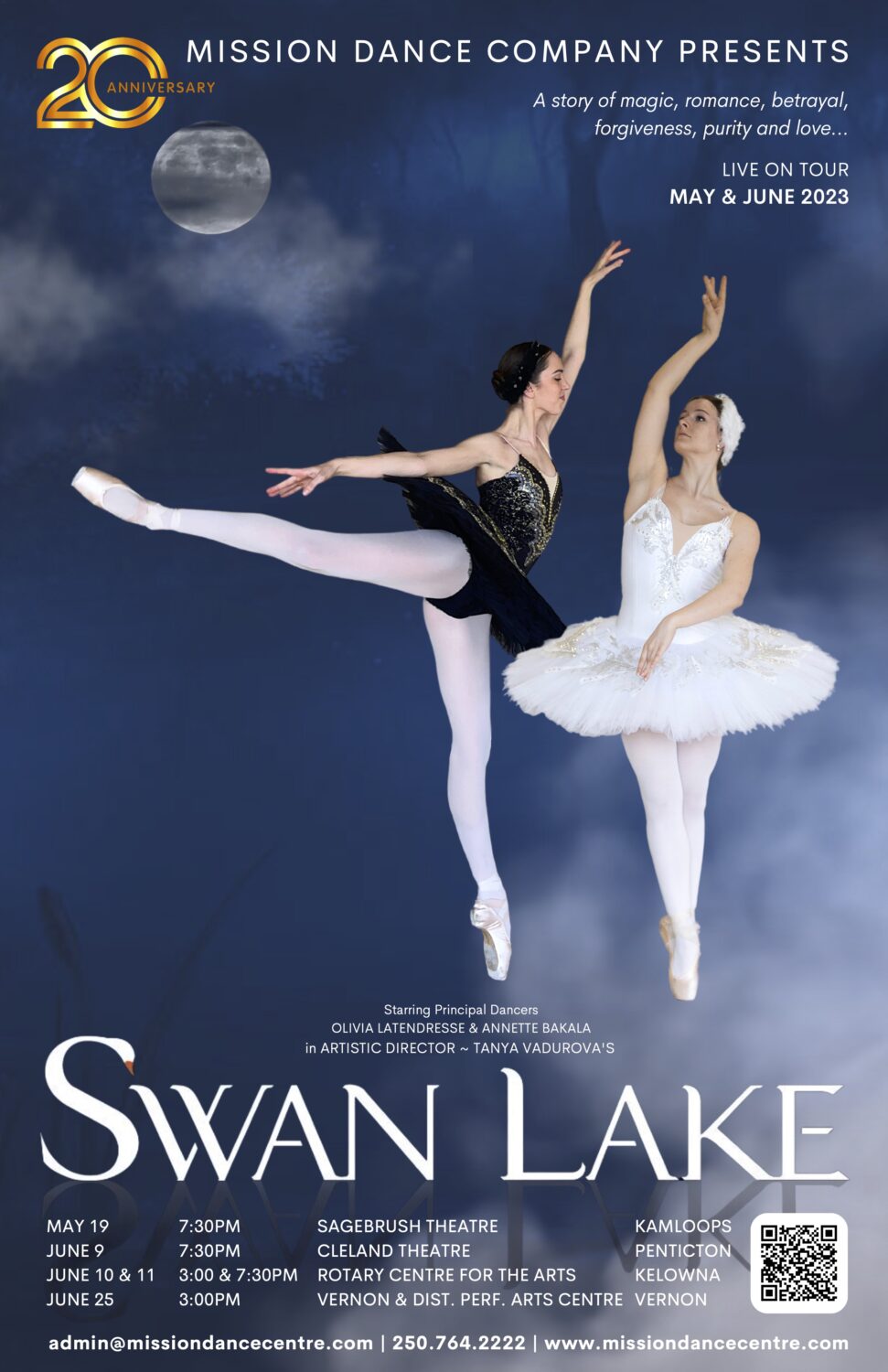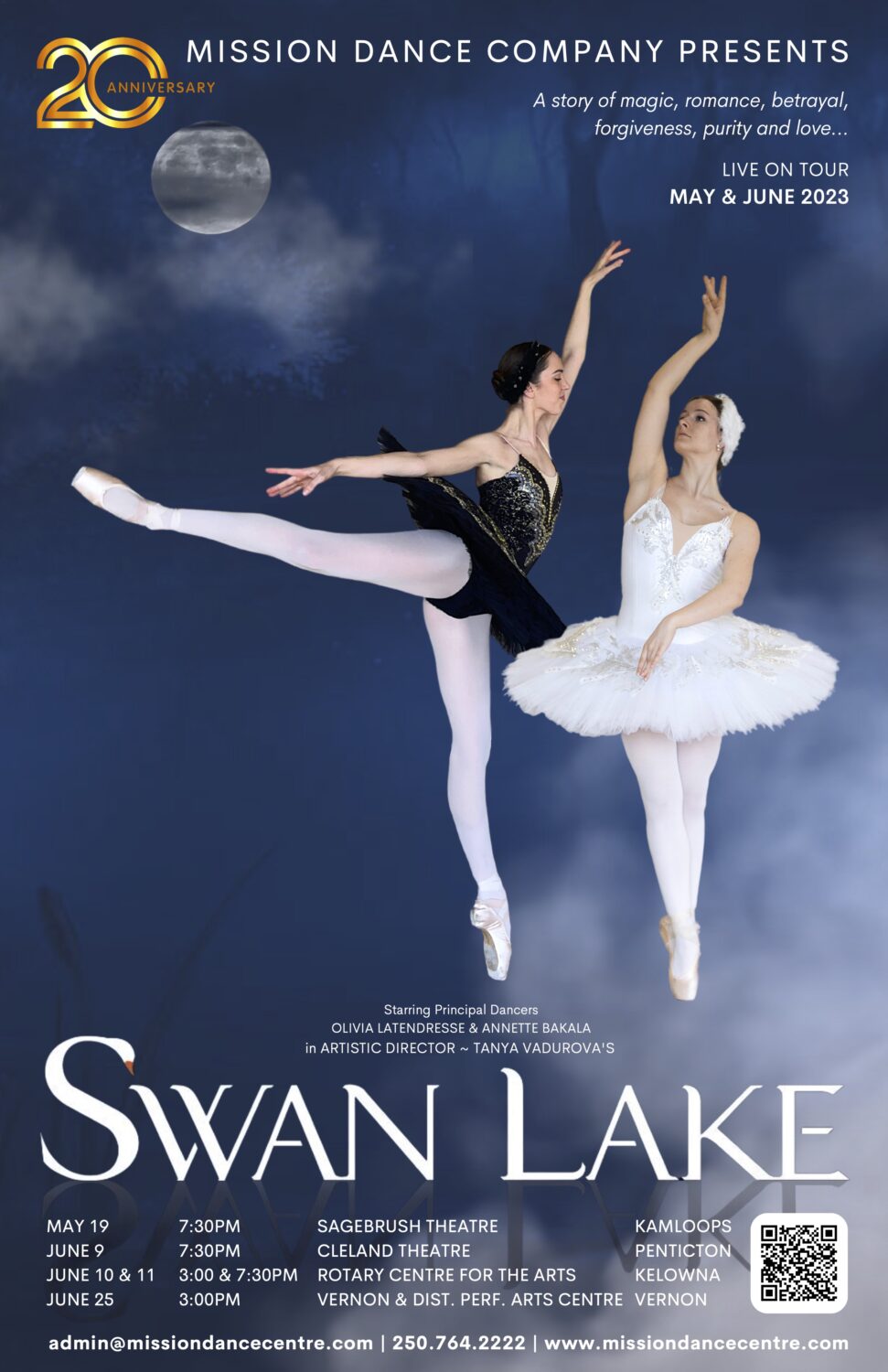 Click on a Ballet to Learn More
Mission Dance Centre's School
Mission Dance Centre & Company offers a full range of preschool ballet classes to pre-professional and adult ballet classes from our studio in Kelowna's mission. Our dancers have the opportunity to solo and understudy for many roles. We feel this creates an excellent learning environment as junior dancers get the chance to dance leads in matinee and rehearsal performances and learn performance skills from the senior dancers. Having the school in the same building as the theatre is very advantageous and helps in countless ways to enhance our performances.
What others say about us…
"Finding an inclusive activity for my daughter has been challenging in the past. Our time at mission dance has been positive from day one! The teachers have been kind and patient and really give each child a feeling of being successful and important no matter the skill level. I'm very impressed at how Aeva's teacher is able to navigate all of the diverse personalities and needs in the class while still making each class fun and rewarding. I couldn't  be happier with our time at mission dance!"
"We are so glad we came across Mission Dance Centre.  Our daughter was afraid to go back to dance classes due to a mishap at her previous dance school.  She was devastated as she really loved to dance but after having a bad experience was really turned off from continuing with her passion.  After meeting Tanya our daughter decided to give it a try and is now in love.  Tanya and her team are so patient and skilled.  We could not be happier our daughters are being molded by such great women."