Mission Dance Centre is fortunate to bring such great Instructors to Kelowna. We are here to guide and support every dancer that walks through our doors. We recognize each student has their own unique set of talents and we help to develop their skills and abilities in a our dance programs. We build self confidence, artistic expression and health & wellness in everything we do. Thanks to our dedicated team of Instructors!
Tanya Vadurova-Bakala
Artistic Director & Founder
Senior Ballet Teacher
Tanya Vadurova, as a young girl, received a bursary to train at the National Ballet School in Toronto. Some years later, after her University studies, she returned to the prestigious dance school to train as a teacher. Tanya continued her studies in Spain and other European countries to further her training and knowledge in ballet, flamenco and modern dance. Tanya Vadurova has taught dance in Germany, the Czech Republic, and in major Canadian cities such as Toronto and Vancouver.
As a professional dancer and soloist in Europe, Tanya danced a variety of styles, ranging from classical to musical theatre. In 1997, while living back in Toronto, she was featured in the documentary film Fringe Bound that aired on the CBC & CHUM TV/BRAVO!
Now residing in Kelowna, Tanya Vadurova successfully coaches young dancers at her school, the Mission Dance Centre, in hopes of assisting the next generations of dancers to achieve their goals. Since she founded Mission Dance Centre in 2003, Tanya has produced a myriad of events and shows for the Okanagan and its residents.
Passionate about the magic that dancing to live music can inspire, in 2005 and 2006 Tanya Vadurova was featured as a solo dance artist with internationally renowned performing artists, jazz pianist and Hollywood composer Stu Goldberg and violinist and concert master Denis Letourneau. The trio toured the Okanagan with performances in Vernon, Penticton and Kelowna. In 2007 Tanya's dancers joined the Okanagan Symphony Orchestra under the baton of Rosemary Thomson in a concert entitled Carnival. Later that year, in the Symphony's Fairytales and Fables, Tanya danced a solo role of Scheherazade in a world premiere of her new choreography to the music of Rimsky-Korsakov. Before coming to Kelowna, Tanya's choreographic works have been seen at the Montreal Fringe Festival, the Music Hall in Toronto, the Vancouver Kiss Project, the Hamilton Place with the Hamilton Philharmonic Orchestra, McMaster University, and at the Mayor's Gala '97 at the Living Arts Centre in Mississauga
In February of 2008, Tanya received the Okanagan Arts award for dance and her company was asked to perform the finale. In 2010, Tanya was once again honoured with the Okanagan Arts award.
It is because of Tanya Vadurova's own professional training and experiences that she can teach and encourage others to follow their dream. Her years of hard work and too often, struggling to make a living with becoming a professional dancer has taught her how to lead and help others to overcome their own hurdles on their journey. Tanya Vadurova provides leadership, understanding, compassion and inspiration to students and professionals alike who seek her out.
Presently, the Mission Dance Centre student dancers are asked throughout the year to perform in various openings, events, and fundraisers.  As Mission Dance Centre offers a pre-professional program, our dancers have developed a repertoire and are always ready for a show. The pre-professional program accepts students who find a passion in dance and would like to pursue this art. Mission Dance Centre has sent students to study at professional ballet schools, such as the Royal Winnipeg Ballet and the National Ballet, to name a few schools. Above all, Tanya still finds time to see students privately to help them develop their skills further. Students will find that not only does Tanya guide them through dance; she also uses dance to guide them through life and to help them develop a strong character to prepare them for their future goals and dreams.
Olivia Latendresse
Instructor & Office Administrator
Olivia Latendresse grew up in Tsawwassen, BC, and trained for 14 years at Deas Island Dance upon completing her RAD Advanced 2 ballet exam in 2014. She then further continued her training with Tanya Vadurova as part of Mission Dance Company's Post Graduate Program. She now holds many positions at Mission Dance Centre & Company including Office Administrator & Production Assistant, Ballet Instructor, and of course, Company Dancer. Olivia has performed notable leading roles in many Ballets over the years including Swan Lake, The Nutcracker, Sleeping Beauty, Cinderella, Don Quixote, Giselle and more. She has also performed professionally in many community events and fundraisers including a performance in Disneyland, California. She has attended Summer Intensives at several Ballet Schools across Canada, including Goh Ballet, Alberta Ballet, and l'École Supérieur du Ballet du Quebec. Alongside ballet, Olivia received her Bachelors Degree in Business Management from UBCO in 2019 and has since also continued her studies with UBC to receive her Real Estate Trading Services License. She now works as a local Real Estate Agent in addition to her many positions at Mission Dance Centre & Company.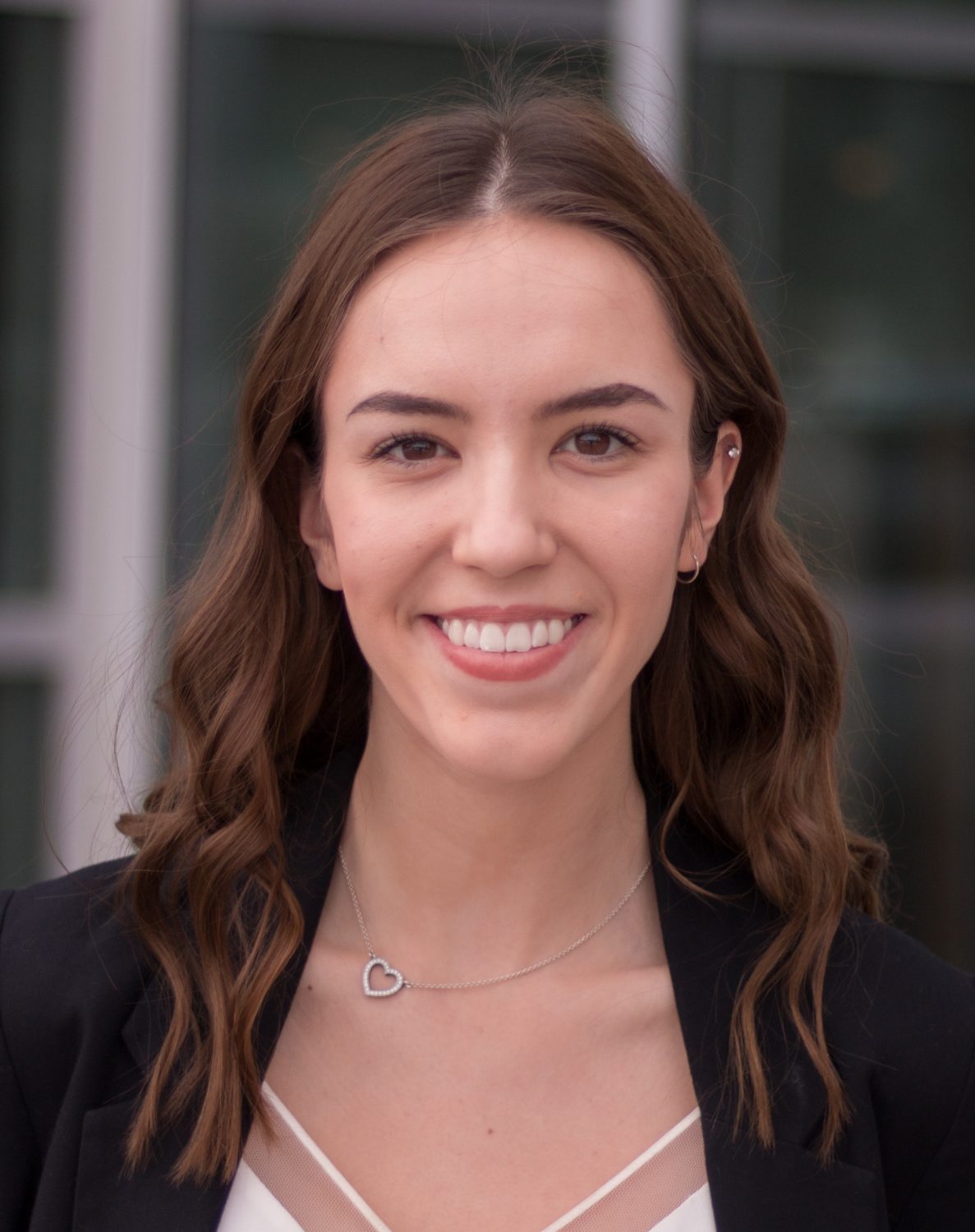 Annette Bakala
Guest Ballet & Pointe Instructor
Annette grew up in Kelowna, B.C. and has trained and performed at Mission Dance Centre for 15 years. She attended the Ballet Jorgen Summer Intensive IV in Toronto  in 2018 and trained in ballet, pointe, repertoire, and contemporary. She also attended Ballet Kelowna's Summer Intensive with Heather Myers in 2017 where she was taught ballet and contemporary technique as well as Heather's repertoire. Annette has performed leading roles in productions such as: MDC's "The Nutcracker" 2015-2018 as the Sugar Plum Fairy partnered by the former MDC student who graduated from The Royal Winnipeg Ballet School, Jera Wolfe. Annette also danced the role of Odette in MDC's "Swan Lake" in 2016 & 2019, partnering with Jera Wolfe and Ballet Kelowna's Valentine Chu, graduate of The Paris Opera. She was also the recipient of The Teen Honour in the Arts Award for the Kelowna Civic & Community Awards in 2018.
She graduated from MDC's Pre-Professional Program in 2019 and continued her career in Toronto, Canada in 2020 where she trained under Royal Winnipeg Ballet's former Prima Ballerina Evelyn Hart. She has been a student in Montreal, Quebec at École supérieure de ballet du Québec for the 2022/2023 year in the SUPÉRIEUR program, performing in works such as "La Bayadere" directed by José Manuel Carreño, and Edgar Zendejas's "Tu pours, en paid, dans men bras dormir". Annette is a passionate teacher and feels honoured to inspire and mentor the younger generation.
McKeely Borger is a member of the Saskatchewan Métis Nation from Regina, Canada. She has pursued her dance career internationally at Adelphi University in New York under full merit scholarship, Coastal City Ballet in Vancouver, Atlanta Ballet, and in France at Le Ballet de l'Opéra-Théâtre de Metz Metropole as a soloist. She was an original cast member of the mainstage production of Mickey & the Magician at Disneyland Paris in 2016. Before returning to Canada, Ms. Borger spent two years with Ballet Palm Beach, where she had the opportunity to dance George Balanchine's Who Cares? as the 'One and Only'. Embarking on her third year with Ballet Kelowna, she has premiered new works by Canadian artists such as Kirsten Wicklund, Kunal Ranchod, and Cameron Fraser-Monroe. Ms. Borger also loves sharing the joy of movement with our community as an instructor for dancers of all ages.
Harper Corneille grew up in Kelowna, B.C and has been training at Mission Dance Centre & Company for 3 years. While dancing with MDC, she has performed various roles in The Nutcracker and Swan Lake. Her favorite role she has gotten to perform is the Mouse Queen in The Nutcracker. Harper now works at Mission Dance Centre as an Office Administrator and is also in Mission Dance Company's Post Graduate "B" Program. Harper hopes to uplift the younger generation of dancers and help them become the best versions of themselves.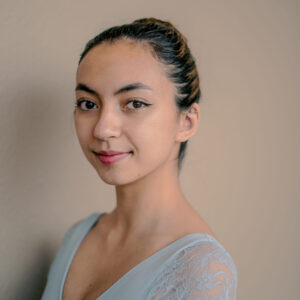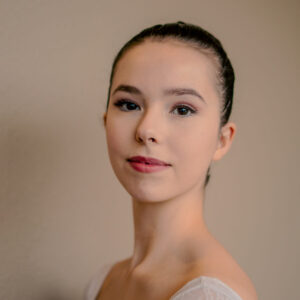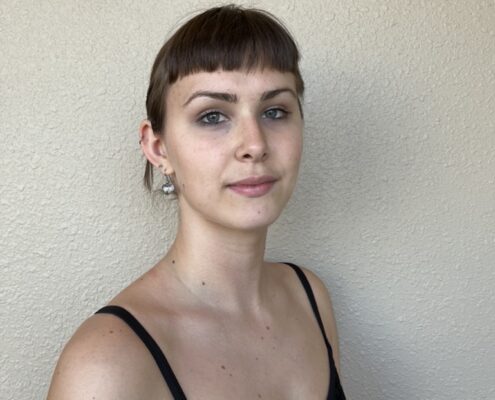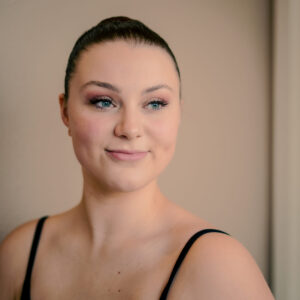 Olena Zakharova is a Professional Ballet Dancer/Teacher/Choreographer. Ukrainian born, Olena Zakharova began her ballet training at Donetsk Ballet School and continued her education at Kharkiv College of Culture (Ukraine). While studying in College she was invited to join Kharkiv National Opera and Ballet Theatre. From 2004 to 2005 worked at Odessa National Opera and Ballet Theatre. In 2005 moved to Egypt to join Cairo National Opera for two years. In 2007 after short period in Poland, moved to Canada to join Atlantic Ballet Theatre (Moncton, New Brunswick), where she was dancing for 7 years before retired from professional dance career in 2014. Repertoire included:
Sugar Plum Fairy (Nutcracker), The Queen of Dryads (Don Quixote), Fairy (Cinderella), Scheherazade (One Thousand and One Night), Trio of the Shadows (La Bayadere), Rosalinde (Romeo and Juliette), Countess (Figaro), Cordelia (King Lear), Christine (Phantom of the Opera) and many others. Olena started to teach ballet part time during her time in New Brunswick for a several local dance schools. In 2014 moved with her family to British Columbia and joined Fraser Valley Academy of Dance (Mission, BC) as a full-time ballet teacher, where she worked with the students helping them successfully prepare to annual full leigh Nutcracker, year end shows, as well as local ballet competitions and Young American Grand Prix.
Steven began as a classically trained ballet dancer, initially studying in Vancouver and then at the prestigious National Ballet of Canada in Toronto, continuing his training in the National school as well as working with the company.
Stevens career has spanned all over the world, performing with major dance companies as a soloist and principle dancer in such notable companies as, the National Ballet of Canada, les Grande Ballet Canadiens and the Hong Kong Ballet company.Steven has competed in several world ballet competitions around the world. In 1995 awarded dancer of the year in hong kong. In 1996, was awarded as one of the top 20 dancers in the world at the masaka oya world ballet competition held in osaka japan.
In addition to a  professional dance background , in 1998 steven began his studies in structural integration technique.
With a curiosity to understand and explore ways of improving and healing the body,
Steven went to Colorado to study ROLFING® at the Rolf institute in Colorado in 1997 where he explored human movement from a fresh new perspective beyond a dancers eye.
Once certified as a Rolfer, Steven also studied everything from kinesiology, body mechanics, myofascial release, Reiki and various other energy healing techniques, psychology and human behavior.
During his time at the Rolf institute Steven developed a system of movement classes called "Stretchrelease", both a combination of passive and active dance based/ neuralfascial / whole body release techniques, Stretchrelease was designed to gently ad safely bring about a higher state of awareness and balance throughout the entire body system. Stretchrelease is beneficial for all persons.
Steven teaches and works with clients all over the world and from such diverse backgrounds as professional athletes, dancers, performing artists, namely cirque du soleil artists,iron man and triatheletes, world champion jockeys, airforce pilots as well as opera singers,stage and film actors,yoga teachers and professional orchestral musicians.
Originally from Brampton, Ontario, Kurt has been a dancer with Ballet Kelowna since the summer of 2012. Prior to his move, he studied with several of Canada's top professional ballet schools including the National Ballet School of Canada, The School of Alberta Ballet and Canada's Royal Winnipeg Ballet School, where he graduated from their Ballet Academic Program in 2011. Kurt has also travelled abroad to Austria, England, Italy, New Zealand and the US in order to further his development and knowledge of dance.
During his five years with Ballet Kelowna, Kurt has performed in numerous mixed repertoire programs locally in the Okanagan Region and throughout British Columbia and Alberta. Most recently he performed in a collaboration with the Okanagan Symphony Orchestra called Canadiana Suite in early May. Additionally, Kurt has been featured as The Cavalier, Nutcracker Prince, Snow King and Arabian Man in the local production of The Nutcracker staged by Canadian School of Ballet and will be making his Kelowna Actors Studio debut in their upcoming production of Billy Elliot.
In 2015, Kurt was the first recipient of the Brian MacDonald Dance Award (established upon his passing), and participated in The Banff Centre's prestigious Summer Dance Program. Kurt is excited to join the Mission Dance Centre as a ballet instructor.
Saia Kuwata is originally from Osaka, Japan where she began her training. In 2016, she moved to Victoria, Canada to continue her training in the Post-Secondary Bridge Program at the Victoria Academy of Ballet, which she graduated from in the spring of 2018. While at the Victoria Academy of Ballet, Saia had the opportunity to work with many guest teachers such as Alysa Pires, Wen Wei Wang, Jorden Morris and Christopher Anderson. Saia placed in the top 12 at the Youth American Grand Prix semi-finals in Seattle, Washington. She has performed in Ballet for the Future (2014, 2015) under the direction of Gen Horiuchi (Artistic Director of the Saint Louis Ballet Company), as well as Alberta Ballet's  The Nutcracker (2017), and Ballet Kelowna's A Streetcar Named Desire (May 2018).
Stephanie began dancing in Montreal, with her mother, Margaret Mehuys and continued her training with Yvonne Mounsey at Westside School of Ballet, at the Pittsburgh Ballet Theatre School  and danced on scholarship at George Balanchine's School of American Ballet for three years.
She went on to dance professionally with the Hartford Ballet, the Connecticut Ballet and Ballet Ouest de Montréal where she has performed a varied repertoire including principal roles in The Nutcracker, Sleeping Beauty, Coppélia, Giselle, Le Corsaire and Gaité Parisienne.
Stephanie ran her own school in Montreal for three years.  In 2006, she merged her school with Ballet Ouest de Montréal to help found their dance center.  Here she taught elementary through pre-professional levels including ballet technique, pointe, variations and conditioning.
She then moved to Orange County, California where she taught and choreographed for Richter Academy of Classical Dance under the directorship Lauren Richter.  At RACD, Stephanie choreographed and trained students that have placed first and second at the YAGP semi-finals.
After eight years of teaching in southern California, Stephanie and her family moved to West Kelowna, BC, where she looks forward to sharing her passion for ballet and the Balanchine style with future students.
Manny de Jesus is a certified strength & conditioning coach from Hamilton, ON who has spent years working with both elite athletes and dancers alike. As a child, he was raised with Latin foundations, but eventually fell in love with the freeform nature of hip hop, funk, and other street dance styles.
This passion led him to compete and choreograph in open style events across Canada (i.e.. OUCH, YYC Foundationz), attend intensives in LA and the Philippines, as well as produce commercials for Cottage Springs and Hamilton's streetwear brands, ROSE & Omnes. Before graduating in Kinesiology at Queen's University, he helped train the school's varsity athletes using principles now repurposed for performance artists.
Currently, Manny is working alongside a Kelowna-based collective of artists on a unique summer performance series. This project is a part of his lifelong goal of mastering the five pillars of Hip Hop culture, and exploring how they can be incorporated across different genres and mediums.
Erica Thomson was born and raised in Port Moody, BC. Erica studied dance at Caulfield School of Dance in Port Moody, training in styles such as ballet, jazz, tap, contemporary and hip hop, as well as volunteering as an assistant teacher. Now graduated, Erica returns each year to stage manage the Caulfield School of Dance year end shows. Erica also danced as a member of a Port Moody hip hop dance crew from 2012-2014 and competed locally under the direction of The Creative Outlet owner and director Andrew Galang. Erica received the 2013 Jennifer Jackson Memorial Scholarship as well as a 2014 Ministry of Education Dogwood Award for her dedication to dance. Erica then brought her passion for movement to her students in the City of Port Moody dance programs where she had the opportunity to teach the same classes that first sparked her interest in dance at the age of two. Now in Kelowna to study at UBC Okanagan Erica is excited to share her knowledge and true love of dance with the students.
Taria has been dancing for 10 years, training at MDC for the past 5, and teaching ballet/contemporary/jazz for the past 2 years. She recently attended the Arts Umbrella International Summer Dance Intensive in Vancouver and studied ballet, contemporary, improvisation, and modern techniques. Dancing is important for her not just to keep her in shape physically, but also mentally; it is something that constantly challenges her, and gives her a deeper understanding of the world around her. Taria's goal through dancing is to attend a post secondary dance program and pursue contemporary choreography as a career.
Alexx is a well rounded dancer, and performer. She has trained and competed in hip hop, jazz, tap, contemporary, lyrical, musical theatre, acrobatics, gymnastics, ballet and pointe from a variety of different teachers and studios in Kelowna. She was introduced to dance when she was 9 years old through a musical theatre exam program. After completing all of her exams with distinction, she fell inlove with the art of dance and joined a studio to expand her dance knowledge when she was 13, and began dancing competitively at age 14. Alexx has placed first at over 20 competitions for both solo and group work. She loves to challenge herself and her students with creative choreography and technique. Alexx hopes to help her students improve as dancers and wants to encourage them grow and find a passion for dance.
Contact Us
admin@missiondancecentre.com
250-764-2222
Our Kelowna Dance Studio
3261 Gordon Dr, Kelowna, BC V1W 3N4
Upstairs at the Evangel Church beside the Kelowna Christian Elementary School